6-YEAR FACTORY WARRANTY
ORA provides a warranty for every ORA new vehicle sold by Future Motors Ltd. and registered in Hong Kong. The warranty period is 72 months or 150,000 km (whichever comes first) starting from the registration date.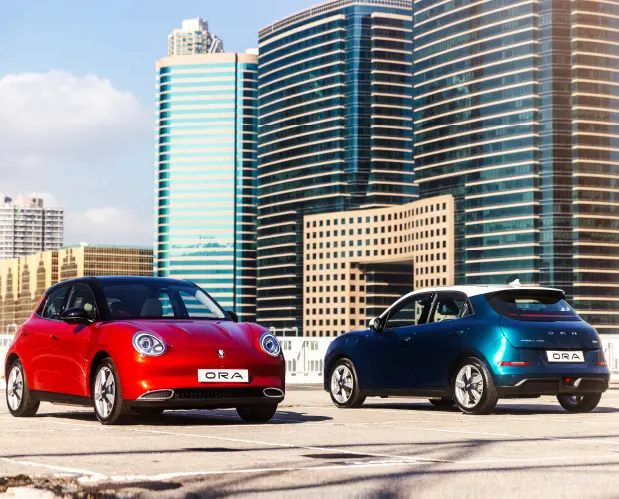 OWNER'S OBLIGATIONS
1) Future Motors Ltd. recommends that vehicles undergo regular service check-up at least every 12 months or 10,000 km (whichever comes first), starting from the completion of the first free maintenance service. This helps ensure that the vehicle remains in optimal driving condition. Failure to have the vehicle serviced may result in the denial of warranty claims for any damage caused.
2) Vehicle repairs and maintenance services can be provided by Future Motors Ltd. or other third-party service providers. However, we advise you to choose Future Motors Ltd. for the mentioned services throughout the warranty period. Claims for warranty repairs related to damages caused by third-party service providers may be denied.
3) Costs associated with repairs, maintenance, or other services provided by third parties are not reimbursable.
4) Maintenance and warranty service booklet must be presented if regular maintenance or warranty services are required.
5) After each regular service check-up, owner must ensure that the relevant staff at the service centre has signed and stamped the record on the regular maintenance and service log.
6) It is important to ensure that the high-voltage battery is fully charged at least once a month.
ITEMS NOT COVERED UNDER WARRANTY
1) All regular service check-up and general maintenance, including (but not limited to) adjustments of the braking system and wheel alignment, tire balancing, and costs associated with labor, parts, and lubricants required for checking and adjusting various components.
2) Consumable parts include (but are not limited to) filters, brake pads, light bulbs, fuses, and wiper blades.
3) All damages caused by improper vehicle use, negligence, or accidents, such as (but not limited to): improper vehicle storage, use for racing purposes, excessive load capacity, self-modifications, alterations to vehicle specifications, improper tuning or repairs, use of non-genuine or non-standard specification parts, non-standard specification chargers, unauthorised accessories, and damages resulting from improper or insufficient routine maintenance that require repairs, parts replacements, or any other necessary adjustments.
4) All losses and expenses related to any vehicle malfunctions or issues, such as (but not limited to) phone connections, time loss, towing expenses, business losses, or any other inconveniences, are not covered by the warranty.
5) Any repair or parts replacement expenses for vehicles with altered or mismatched odometer readings compared to the original trip mileage.
6) Modified vehicle bodies not manufactured by ORA or special-purpose bodies not equipped by the original manufacturer are covered by the respective manufacturer for warranty services.
7) Repair costs for damages caused by maintenance, servicing, or other work performed by third parties outside of Future Motors Ltd.
8) Repair costs for damages resulting from the owner's failure to perform timely and appropriate maintenance as instructed and outlined in the maintenance manual and schedule (including specified maintenance intervals).
MAINTAINING OPTIMAL VEHICLE CONDITION THROUGH PROPER MAINTENANCE
1) Pre-Delivery Inspection and Testing Before delivering each ORA vehicle to the new owner, Future Motors Ltd. performs precise inspections and tests according to the manufacturer's specified standards. This ensures that ORA vehicles maintain their optimal condition even after reaching their destination.
2) Free Maintenance Service* New vehicle owners are entitled to one free maintenance service performed by Future Motors Ltd., provided that the warranty certificate is presented beforehand. This maintenance service covers labor costs and is based on the items specified in the Maintenance Service Report - Free Service. However, the owner is responsible for expenses related to filters, windshield washer fluid, consumable parts, lubricants, waste oil disposal fees, and the electricity consumed during testing and inspection processes. Costs associated with maintenance, servicing, or other services provided by third parties will not be reimbursed. *The free maintenance service should be completed within the first three months.
3) Regular Service Check-Up Regular maintenance is essential to ensure the reliability, durability, optimal performance, and enhanced resale value of your vehicle. Future Motors Ltd. recommends that vehicles undergo regular service check-up at least every 12 months or every 10,000 km (whichever comes first) to keep the vehicle in its best driving condition. Advanced equipment, skilled technicians, and competitive prices enable Future Motors Ltd. to provide repair, inspection, and testing services for your ORA vehicle. Following the maintenance schedule suggested by Future Motors Ltd. ensures the most effective and cost-efficient maintenance for your ORA vehicle. Failure to adhere to the service instructions and maintenance plan may result in the rejection of warranty claims related to the associated repairs.